Filostrato; Madella P. (cur.) Reid H.L. (cur.) Isidori E. (cur.) Sull'allenamento. Text in Greek and Italian. Sette Città, 2015.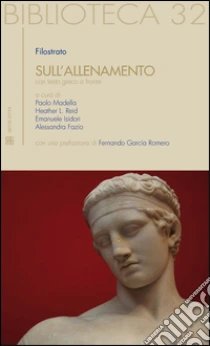 This is a new Italian translation of Philostratus' 3rd century CE essay on athletic training, On Gymnastics (Peri Gymnastike) with introductions and commentary aimed at scholars of sport history, philosophy, and pedagogy.  Paolo Madella's translation includes introductory notes and extensive footnotes that take into account recent scholarship as well as ancient context.  Heather L. Reid provides a philosophical-historical introduction to the text (here attached in English translation: Introduction to Philostratus Gymnasticus), Emanuele Isidori and Alessandra Fazio offer a practical pedagogical interpretation of the text, and Fernando Garcia Romero opens the discussion with a preface that situates the text within the ancient and modern literature on sport.  This is a new look aimed at modern sport scholars at the most complete text we have on ancient sport.
/////////////////////////////////////////////////////////////////////////////////////////////////////////////////////////
Attribuito a Filostrato, filosofo sofista docente di retorica dapprima ad Atene e poi a Roma, dove visse alla corte dell'imperatore Settimio Severo, ed autore di diverse opere tra le quali "Le vite dei sofisti" e la "Vita di Apollonio di Tiana", il trattato "Peri gymnastikés" (qui tradotto con il titolo: Sull'allenamento) rappresenta un'opera di straordinario interesse dal punto di vista storico e culturale. Sull'allenamento è infatti una delle poche opere dell'antichità giunta fino a noi che ci fornisce in modo sistematico informazioni di prima mano sulle tecniche e sulle modalità di pratica dello sport nel mondo antico. Il trattato condensa il sapere e le conoscenze sullo sport antico offrendo interessanti spunti di riflessione filosofica e pedagogica, che vengono raccolti e sviluppati dai curatori di questa edizione.